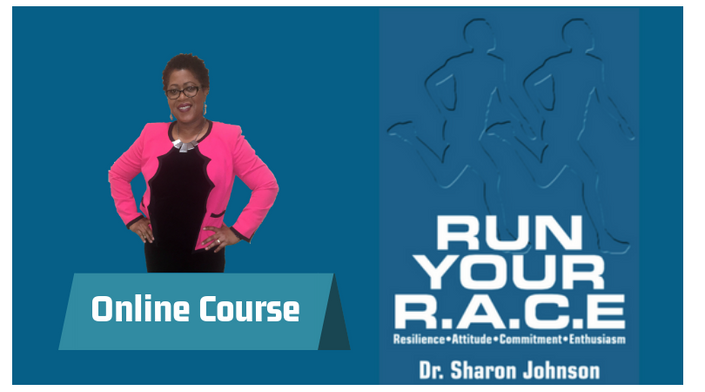 Run your R.A.C.E - Resilience, Attitude, Commitment & Enthusiasm
A Personal Blueprint for Success SELF-PACED
Watch Promo
Welcome to the Run Your Race Course
In this Race I want to learn how to never QUIT. Watch this quick video before you continue.
This is all about you. Your Greatness!

Thank you for deciding to Run Your R. A. C. E.
This self development program is about my very own book run your race. I actually market this course for $199, but I know that you will benefit from it by being a student on the Comtivate Online Leader ship Academy. That is why you're paying the price you are paying to do the course now.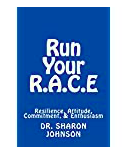 This self-development program was inspired by watching my daughter Adonai Johnson prepare for the Track and Field Junior Olympics in 2017. Have you ever watched the Olympics, maybe a college race or even watch kids run a race?
Were you ever a track and field athlete? Can you remember your thoughts before the race? You may have wondered, who will win. As the crowd gets quiet for the sound of the gun. You hear, "On your marks!" "Get set!" and the most anticipated moment … "Go"!
Similarly, if you have a child, relative, or a friend in that race, all you want is for them to win. The only thing you do not know at that time is who will actually win. See, what we want from life and what we get from life are entirely different. We only know the winner after the race is over.
Before the race, you plan on winning, and as you are running the race, you are focussed only on yourself and the finish line. What happens between the starting line and the finish line is within you. The real results is based on your preparation and execution. All of your strategies will determine the outcome.
The key is running the RACE. The most important thing is for each runner to complete the race to be listed as a participant. If you run in another athlete's lane, you can be disqualified. If you jumpstart the race, you can be disqualified.
If you fall accidentally or for other reasons, you may not be able to keep up with the others. However, if you finish the race regardless, you can guarantee that the crowd will cheer you on for persistence.
The runner must complete the race to be on the list of who competed in the race. You may not win that specific race, but as you experience life, completing it makes you a winner. So, are you ready to Run Your Race? The Race of life is not for the swift, but for those who can endure it.
Any man, woman, or child can experience success in the Race of life. This also benefits organizations that want to help individuals bring their best selves to work. After all, who does not want to be a winner or have winners among them?
The concept of running your R.A.C.E is not one more thing to do. It is a framework of thinking differently as you live. The focus of this blueprint is to learn strategies of how to run with:
Resilience Attitude Commitment Enthusiasm
The path in this workbook is to participate in exercises of identifying your dreams as a "race". You will be asked to identify dreams on your mind. Once those dreams are identified , you will create a pattern of prioritizing to zoom into what you really have a passion for. The final exercise is to identify your #1 Race. In doing so, individually or as a group, you will find that dreams can be achieved with prioritizing and intentionality.
You will learn that Resiliency, Attitude, Commitment, and Enthusiasm are necessary ingredients of a successful life. We spend our lives doing numerous activities throughout the day and realize at the end of our days that we are Jack of all trades and masters of none. By applying the unique strategies of Run Your Race, you will learn to do one thing at a time successfully, then move to the next thing. In other words, run only one race at a time.
Never give up!
I pray that as you Run Your Race, you will be on the list of those who complete the RACE. Never quit.

Register NOW and start winning your Race.
Training Hours: 2 Hours
What you learn:
Understanding Resilience
The power of Attitude
Why Commitment is crucial in our lives
How your Enthusiasm impact how we run the race of life
How to create a blueprint for our success
Requirements:

Resilience
Attitude
Commitment
Enthusiasm
Course Contains: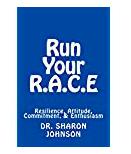 On demand video and content
Downloadable resources
FREE pdf of Book - Run Your R.A.C.E by Dr. Sharon Johnson
Certificate of Completion - 2 hours
Thanks again for running your race. One of my biggest joy in life is watching other reach their maximum potential and with this program, you will. I believe in you and the magic of your dreams.
DR. J
Testimonials
Run your R.A.C.E is an awesome and inspiring course of work. Not only does it help you focus and prioritize your goals, it helps you formulate a path to achieving them. The system is both useful in business and personal life. Focusing on the S.M.A.R.T. goals method, this course can turn any daunting task into an achievable goal. I'm so happy I was able to go through the process and look forward to implementing this formula in many different areas of my life so that I can be more task-oriented and successful!
~ Leslie Walker, Hollywood, Professional Coatings Sales Representative, Florida
**********
The RACE program is a terrific tool to bring focus to your goals and clarity to what to you want. If you need a plan to reach your goals, look no further, this is it. Life is a race that we have to run. We must run effectively and intentionally to win. Dr. Sharon Johnson's RACE program will do just that.
Pat Cherry, Executive Coach, Miami, Florida
**********
Run Your Race is a great way to introduce achievements and dreams. This blueprint workbooks cements the concepts to both professionals and life style changers. I truly enjoy Dr. Sharon Johnson's perspectives and problem solving techniques. This is an extremely useful platform to maintain productivity and consistency for success.
Karen Rose, Florida
**********
Dr. Johnson
Your presentation pulled at me because I am a "Jack of all trades and master of none". I felt like my life was written by you.bIt is extremely inspiring and your examples are spot on especially using a race which made me think of time, which is always going forward, never paused and cannot go back in time. Using a race with oneself has an outcome of a fast winner or a slow one in your own right.
Young adults starting out in life and adults feeling stuck in a job would absolutely benefit from this. The younger attendees will learn how to prioritize their live's race, while older attendees will learn to take a step back, and re-prioritize their race. At the end of the presentation I thought how fare away I am to the finish line!
Nadine Grant, New York City
Your Instructor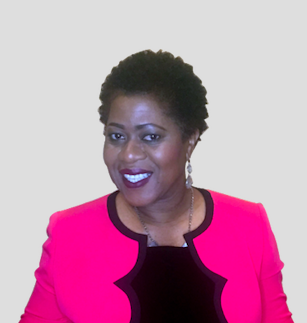 Welcome to Comtivate Leadership and Development Academy.
Dr. Sharon Johnson is the CEO of Comtivate Leadership & Development LLC.. Dr. J. is a Doctor of Business Administration. Her dissertation was Leadership, Motivation, and Job-satisfaction in the Workplace - a Phenomenological Research Study. She has been in leadership for over 22 years.
In her passion for helping others, Dr. J serves others with her academic and professional expertise online and on ground through coaching, workshops, and leadership trainings. In February 2016, Dr, J started her International leadership missionary in Paraguay with renown world leadership expert, and mentor, Dr. John C. Maxwell. She is a Youth Leadership Coach and teach students leadership principles and "Leadership Experience" tours.
As an Executive Director of The John Maxwell Team, I am certified to facilitate, speak, train and coach individuals and groups in the areas of leadership development, professional skills and personal growth. Trained and mentored by John Maxwell and mentors of his world-class faculty, I am equipped with the tools, resources and experience to help you and your team improve your productivity, performance and profitability. Whether you are looking for a facilitator for group workshops, corporate training in leadership, speaking, sales, or coaching skills for your leaders, or a speaker for your next event, I have access to exclusive content that is only available through a certified Executive Director of the John Maxwell Team to help you reach your goals and objectives.
Dr. J has trained and coached thousands of leaders in over 30 USA cities, from the following areas, Alabama, Boston, Dallas, Fort Worth, Gulf Atlantic, Houston, Louisiana, Mississippi, Oklahoma, Rio Grande -TX, Suncoast-FL, and South Florida. In addition, international coaching and training in Ascension, Paraguay- South America. As well as, Church Leadership and Youth Leadership.
Dr. J. is a Certified John Maxwell Leadership Coach, Speaker, and Trainer, a Certified Behavior Consultant, and Gallup trained Employee Engagement Ambassador. Contact her for your experience at Comtivate Leadership Academy.

Stay Beautiful...Stay Fabulous...Stay Motivated
Dr. J
Course Curriculum
SECTION 1: Run Your RACE
Available in days
days after you enroll
SECTION 2: Let's Run! On Your Marks! Get Set! GO!
Available in days
days after you enroll
SECTION 3: Resilience
Available in days
days after you enroll
Frequently Asked Questions
When does the course start and finish?
The course starts now and never ends! It is a completely self-paced online course - you decide when you start and when you finish.
How long do I have access to the course?
How does lifetime access sound? After enrolling, you have unlimited access to this course for as long as you like - across any and all devices you own.
What if I am unhappy with the course?
We would never want you to be unhappy! If you are unsatisfied with your purchase, contact us in the first 30 days and we will give you a full refund.
Thank you for Running the R.A.C.E